i loveloveloveeed the FP april catalogue oh my it is so wonderful!! if you don't receive their catalogues you should definitely sign up, i look forward to them every month!! here are some of my favorite shots!
they all have such pretty hair, it's so relaxed looking and chill.
and i like all their outfits of course, i especially love the ivory dress in the middle its so loverlyy :)
green shorts! and they are scalloped how cute right??
LOVE everything about this picture.
AHH i love this dress, it would be so perfect to jus throw on for class or to go shopping or just hangout its so cutee.
i love red. i really want some red pants like these, red is such a beautiful, bold color redredred.
so pretty and lacey. or maybe crochet..? i find it very difficult to tell the difference haha
awesome top right there i love it.
denim obsession.
i like those shorts a lot.
this dress is so gorgeous, look at that detailing its incredibly lovelyyy.
LOVE THIS DRESSS. this is the perfect white summer/spring dress.
i love the outfit on the left, the band tee with the floral pants. very coooool.
i love the lacey pants. i got some similar at urban outfitters, but now seeing these i wish i got the whiter colored ones, they are beautiful!
oh look at the lacey layering on the bottom of the shorts, i've been wanting to do this for a while. even more inspiration for me too, they look so adorable!!
lacelacelaceeee and crochet so gorgeous.
HAIR!
okay how awesome are these, i wish i could crochet these are sweet!
these last two are my two favorites from the catalogue!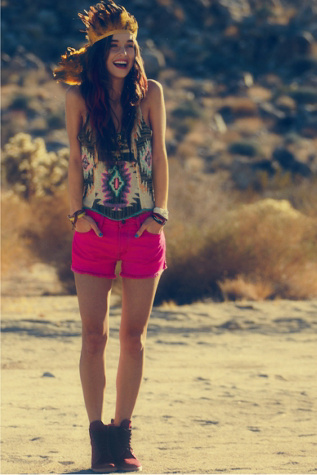 i lovee these shorts, and the top is so perfect with them! i love the bright colors for spring!
and this one...ahh its perfection. please just stare at those shorts for at least 30 seconds! they are incredible, i would love to make these they are amazing. and i think the sweater is so neat, i like how it has the random pink stripes in the middle, although i would never be able to wear anything like this, it is far to hot. and of course the feather head piece, how cool is that? i love fp.
enjoy :)